Commercial Electricians in New England
Our New England-based Commercial Electricians are here to here to help with your electrical needs.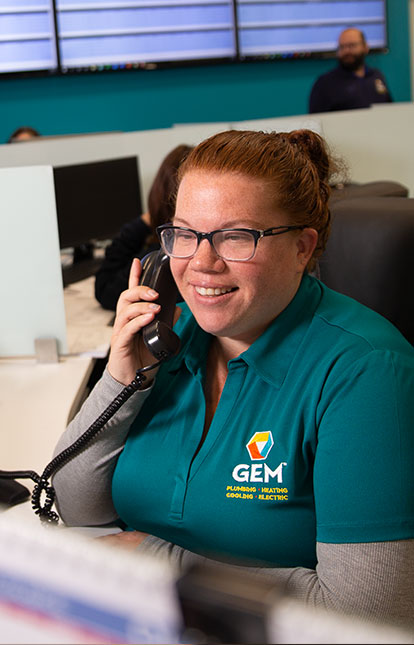 Questions? We're Here to Help!
Quality, Friendly Service in Southern New England
GEM's Rhode Island & Massachusetts-based licensed commercial electricians are here for all your maintenance, repair or installation needs. We'll make sure all your wiring is safe and up to code. GEM can also inspect your electrical panels or install a new generator or lighting fixtures for you. Call us today at 833-222-2960 to learn more about our commercial electrical services.
At GEM, we pride ourselves on our great customer service and solving the problem the first time. We look at your commercial electrical system in the context of your entire facility and recommend solutions that will increase your efficiency and decrease your cost.
GEM's Commercial Electrical Services Include:
Service Panel Upgrade and Replacement
Looking to add a new electric service or replace an outdated panel in New England? GEM will work with the local utility company to ensure your electric upgrade is up to code.
View our Electrical Panel services.
Electrical Fixture Replacement and Installation
GEM's electricians can help you make the right choice when replacing or installing new electrical appliances.
View our Electrical Replacement & Installation services.
Back-up Generator Installation
Protect your building from power outages with a back-up generator from GEM. When the power goes out, a backup generator will immediately engage so you don't lose necessary systems throughout your home.
View our Generator services.
Commercial Wiring Services
GEM electricians can wire many different electrical systems. These include HVAC & Boiler Control, Audio / Video / Data, Smoke and Carbon Monoxide (CO) Detectors, Equipment Controls, Ice Dam Prevention systems and more.
Solar Panel Installation
GEM can help you decide if solar panels are right for you. Let us guide you through the whole process, including system design, installation management, state rebates, and more.
Lighting
GEM can help you update or install any new lighting. We can also conduct an energy efficiency audit that gauges how much operating your lighting fixtures costs each year. Let GEM help identify the right energy-efficient lighting solution for you and install it in your facility.
View our Lighting services.
Electrical Car Charging Stations
GEM can help install electric vehicle (EV) charging stations in your parking structures.
Electrical Conservation
GEM can help improve your efficiency and lower your energy costs by:
Performing a complete energy analysis and audit
Insulating your piping to reduce heat loss
Improving the operations of your energy-consuming equipment
Installing a co-generation system that supplies energy and heat at the same time
And more!
24/7 Emergency Services
Electrical issues are often unpredictable. That's why GEM offers 24/7 emergency service.
Call GEM Today At 833-222-2960 For More Information On Our Commercial Services Or To Book Your Next Service Appointment.
Ready To Talk To A Commercial Specialist?