Commercial Plumbers in New England
Our New England-based licensed Commercial Plumbers are ready to help with your commercial plumbing needs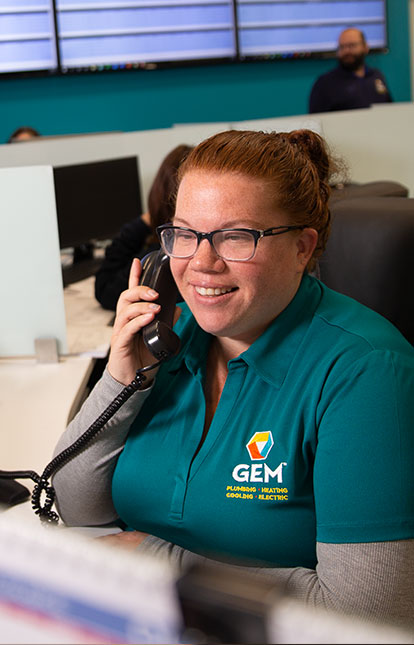 Questions? We're Here to Help!
Quality, Friendly Service in Southern New England
GEM's licensed plumbers in New England are here to take care of all your commercial plumbing needs. Our expert team can support the maintenance, repair or installation of a brand new system. We'll size the pipe for your equipment, pull all required permits, and ensure your new system is up to code.
GEM offers world-class customer service and works hard to solve the problem the first time. We proudly serve Greater New England including Rhode Island, Connecticut, and Massachusetts. We look at your plumbing system as part of a whole and recommend solutions that address the root of the problem.
GEM offers a wide range of commercial plumbing services, focused on your needs:
Plumbing System Maintenance
Most people don't think about their plumbing until there's an emergency, but regular maintenance can help keep small problems from becoming big ones. Instead of waiting until a leaking pipe bursts or clogged drains lead to major water damage, call GEM's Commercial Plumbers in New England to get the fast and effective maintenance and repairs you need.
View our Plumbing Maintenance services.
Faucet and Plumbing Fixture Replacement & Installation
GEM is your source for quality commercial fixtures and faucets. Add plumbing services or upgrade existing hardware in your building. Our expertise can help you:
Navigate the latest technologies in commercial and industrial plumbing equipment
Reduce water waste and save on utility costs with low flow toilets, shower, and faucet aerators
Improve cleanliness with motion-activated faucets, soap dispensers, toilets, and hand dryers
View our Plumbing Replacement & Installation services.
Commercial Boiler & Hot Water Heaters
Service, installation and repair on all Commercial Boilers, including Steam Boilers, Hydronic Heating Systems, and Oil / Natural Gas / Propane Boilers.
View our Boiler and Hot Water Heater services.
Grease Trap Maintenance
Grease traps are the number one most important part of any commercial kitchen plumbing system. Grease traps separate the fat, oil, grease, and solids (FOGS) from wastewater so your pipes stay clean. Learn more about our commercial grease trap maintenance service.
Re-circulating Systems
Circulating Systems provide instant hot water by re-circulating the water through your pipes. If you'd like to know more about it, call GEM today.
Sewer Line Repair & Installation
Our technicians are pump specialists and can answer any questions about servicing or installing a Sump Pump or Sewer Ejection system for your business.
View our Sewer Lines services.
Backflow Protection
Installation of Sewer Backwater Valves prevents dirty water from backing up into your drainage system. If you need servicing, repair, or installation, schedule an appointment today.
Frozen Pipe Replacement & Leaking Pipes
Frozen or leaking pipes can cause important damage to your business if they aren't taken care of early on. GEM can help you diagnose the issue and come up with the best solution for you.
View our Frozen Pipes and Leaking Pipes services.
Water Testing, Filtration, Treatment & Softening
GEM Plumbing offers complete water testing, filtration, and softening for safe and healthy water.
View our Water Testing & Softening services.
Complete Drain Services
Clogged drains can slow down operations drastically. GEM's Drain Cleaning department is here to help keep your drains in tip-top shape with regular maintenance or a high-pressure Hydro Jetting cleaning. If you ever experience a clogged bathtub, clogged toilet, clogged kitchen sink, let GEM take of it for you.
View our Drain Cleaning Services.
Water and Gas Lines Installation or Repairs
Let GEM replace water or gas lines without excavating your property.
View our Water & Gas Line Services.
24/7 Emergency Services
Plumbing issues are unpredictable. That's why GEM is open 24/7, available to answer your questions or schedule a visit in case of an emergency.
Call GEM Today At 833-222-2996 For More Information On Our Commercial Services Or To Book Your Next Service Appointment.
Ready To Talk To A Commercial Specialist?